Tools, sports equipment, that old lamp you're never going to use again – garages are often a place where 'anything goes'. It's easy to see why – unlike the living room, kitchen or bedroom, other than parking, garages don't have a specific purpose.
Well, today's the day to finally give them one. We're sharing 15 garage organisation ideas to help you completely transform your space. Imagine what you'll be able to do with all that extra space – craft or DIY projects, a games room, or even just being able to park without the assault course.
Sound good? Let's get started.
1. Garage ceiling track storage
Think your garage has room for a car but little else? Think again!
Ceiling track storage will give you a whole other level to use for organising all sorts of things. To make things easier, be strict with what you store in each storage box and label them before putting them up.
2. Corner shelving
Corner shelving is a great addition to any room, and the garage is no exception. No matter how little space you have, you'll be able to purchase or make a corner shelf that squeezes into your space.
Store paint pots, tools, and tape on individual shelves to keep everything in your garage neat and tidy.
3. Wall wheelbarrow storage
Most of us have a wheelbarrow in the garage (whether we actually use them or not!) They can be extremely useful (for that one day a year when you decide to tidy the garden) however they're pretty bulky and take up a lot of space.
The answer? Hang your wheelbarrow! All you need are two short planks of wood and some basic DIY skills.
4. Garage organisation using a magnetic strip
Magnetic knife racks – how we love them.
Despite the name, magnetic knife racks are not useful in the kitchen alone. They're great for streamline storage in the office, bathroom, and yes, you guessed it, the garage too.
Pop a few up on the wall and you'll be able to create your own garage organisation system. Attach tools, and place smaller items like nails and screws in metal-topped jars and you'll be able to attach those too.
5. Workshop bench on wheels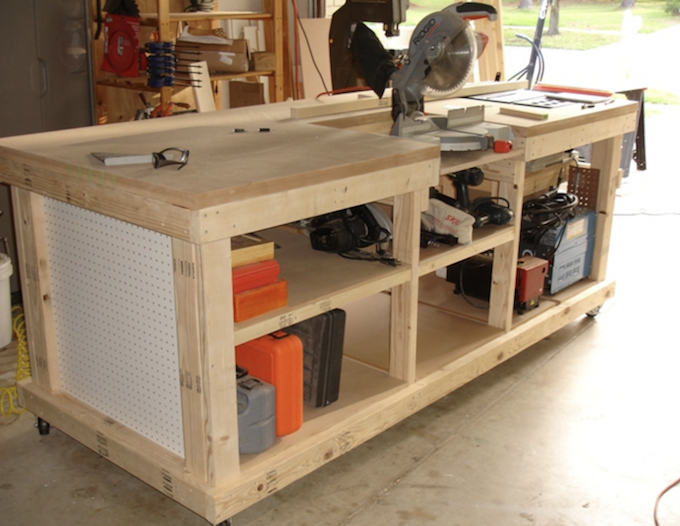 Are you into your DIY? Then what you need in your garage, is a rolling workshop.
A workshop bench on wheels in the ultimate in garage organisation. It gives you a solid surface to work on, plenty of storage for tools, plus, you can push it to one side when not in use.
You can even wheel it outside during the Summer months to enjoy the sunshine whilst knocking up your newest DIY project.
6. Purpose-built tool cabinet
If money is no object, why not invest in a purpose-built tool cabinet?
If you want a garage that really wows, there's no better option when it comes to storage. Purpose-built tool cabinets vary in size (and price!) so you're sure to find something perfect to suit your needs.
Whether you're into carpentry, metalwork or decorating, there's a storage solution out there for you.
---
Read more: https://experthometips.com/15-garage-organisation-ideas-clutter