Parents, check out these top tips for travelling in the car with kids. Big car trips can be boring for the little ones, so it's up for you to be prepared.
Hope you enjoy the blog post – if you do, please share it using the buttons above and below. Thank you!
1. Car travelling fun bags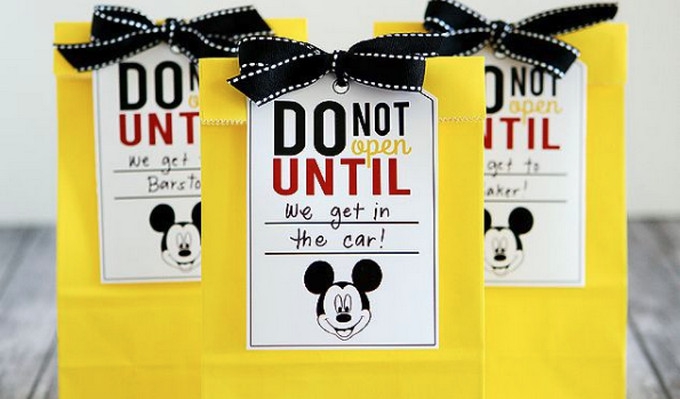 Eighteen25 made their Disneyland trips as magical as possible by creating these gorgeous Disney Trip Fun Bags. Inside there are stickers, toys, Disney gift cards and other neat (and cheap) items that kids will love. As well as bags for when the kids got into the car, they also had bags labelled 'Do not open until we get to the hotel!'. This is a great idea for keeping the kids surprised and entertained. You can tailor each bag to each car trip you go on – if you're going to the sea, include puzzles and toys to play in the sand – there are so many different things you could do!
2. Use a shoe organiser in your car
Hang a shoe organiser over the front seat headrest and fill it with all the items you'll need on your long car journey. If you have babies or young children, consider putting in baby wipes, toys, snacks, nappies – if you have older children pack in books, snacks and things for them to do. If you're on a journey with adults fill it with delicious snacks and drinks! You might also want to include a first aid kit, tissues and car cleaning products.
3. Let them sleep
Here's a great tip – if you have children, set off in the car when it's time for bed. If you travel in the day you'll have to make lots of stops, for visiting the loo and for eating. Travelling in the evening will mean you'll have lots of uninterrupted drive time. Don't forget to dress them in their pyjamas so you can just lift them straight from the car into bed when you arrive at your destination.
4. Pack a spontaneous idea bag
If you're going on a long journey then make sure you pack a bag with all the items in the back of the car. Fill it with everything you might need for spontaneous fun, including a towel (in case you come across a beach), snacks, a blanket (to keep you warm) and a disposable camera to capture any wonderful memories. Now you'll be free to divert the journey if you see somewhere interesting you'd like to check out along the way.
5. Play with an I-Spy bottle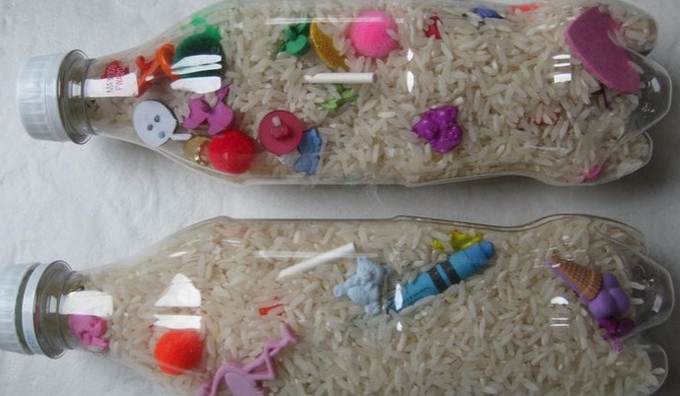 Keep the little ones entertained with their very own I-Spy bottle by following the instructions at Pbs.org. Fill up a clear bottle with little objects you've collected over the years and the kids can shake them around to find everything. There's a surprising amount of things you can do with rice – check out my post on 19 astonishing uses for that rice in your cupboard for more ideas like this.
6. Buy a plastic cereal container
Get yourself a plastic container and house all your rubbish such as ice cream wrappers, dirty tissues and food packets in it. Keep it in the footwell of the passenger seat so it's easy to get to. Make sure you have a little plastic bag inside so you can remove it easily when you get to a big bin.
7. Always find your car when travelling
If you're cruising through a big unknown city and you have to leave your car to go in search of food, then use your iPhone to 'drop a pin' on your map app. You'll then be able to leave the car and later find your way back to where you've parked with ease!
---
Read more: https://experthometips.com/17-clever-tips-travelling-car-kids