Fill your home with the scent of fall with these easy, natural blends. Scents have an amazing ability to change moods, well-being and comfort.
Most of us have hectic lives, so why not surround yourself with pleasant smells and enhance your well-being?
No need for an essential oil diffuser or scented candle. You can make these blends with ingredients found in your kitchen pantry.
Fall Blend Recipe #1
Watch the 30 second video below to see how to make this super simple Autumnal crock pot blend and then continue below for full step-by-step instructions with photos. Also, don't forget to subscribe to our YouTube channel to get updated with new videos.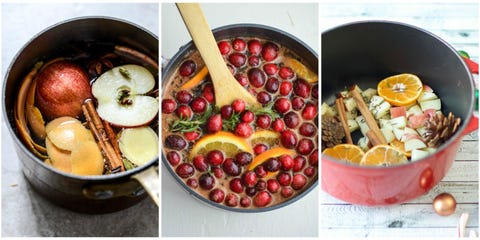 Ingredients:
Cinnamon sticks
Apple peels
Orange rinds
Whole cloves
This first recipe is my favorite and my go to blend for fall. I save the apple rinds and cores and the peels off of oranges in the fridge or freezer.
Peel the skin off of a couple of apples. If possible, save the core too.
Since the scent of citrus is much stronger, you can add as much as you want to the blend. I love the smell of citrus. It's uplifting and refreshing, so I add extra.
---
Read more: https://www.naturallivingideas.com/fall-simmer-pot-blends/