Luminous, voluminous and healthy hair is every woman's dream. Hair oils can help you achieve all of this and more, but only if you pick the right one. Indian women have known about the wonders of hair oil for thousands of years and now it's time for you to discover the magic too!
Today we're sharing essential tips that will help you identify the hair oil that's right for you and get the head of hair you always dreamed of.
Take a step towards beautiful hair together with Nanoil!
If you experience hair problems such as frizz, breakage, thinning, dandruff or splitting, hair oils can help. Whenever ready-made masks and conditioners fail, natural hair care remedies will thrive  – Nanoil is one of the best.
How to find a hair oil that's right for you
1. Discover your hair type
One oil doesn't fit all. Hair oil must go suit your personal hair type, so first you need to take a closer look at your hair. Answer the question: what is my hair like?
First of all, define its appearance – is it straight or curly? Wavy or frizzy in contact with humidity? Shiny or dull? Colours and lengths are not the only features that make hair different – the hair's volume and texture differ, too. Run your fingers through the hair – is it smooth or dry, coarse and straw-like? Questions like these will enable you to tell whether your hair is damaged or not.
It's also important to monitor how your hair behaves during an everyday haircare routine – does it frizz when brushed? How does it react to coconut oil-infused products? Does a blow-dry routine leave it dehydrated, or silky smooth and shiny? Even the tiniest change in your hair appearance matters, because it reveals whether your haircare routine is catering to your hair type successfully.
 2. Define your hair porosity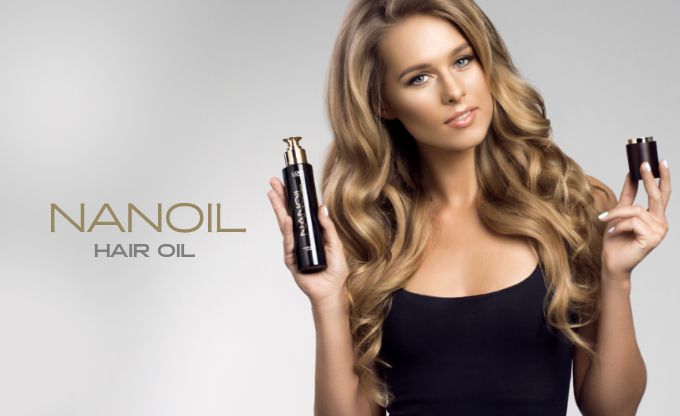 Want hair that looks this good? Keep reading!
The answers to the questions above will also help you to identify the porosity of your hair. Porosity is the umbrella term for the state of your hair state.
There are three basic hair types:
Low porosity hair – healthy, yet lacking volume.
Medium porosity hair – normal, sometimes unruly and problematic.
High porosity hair – damaged, requiring
Generally, low porosity hair is straight, thick, heavy, easily weighed-down and lacking volume, which often leads to greasiness and scalp problems such as dandruff. It is typical to Asian women.
High porosity hair is at the other end of the scale – damaged, over-processed, splitting, dehydrated, dull, coarse and brittle. Curly hair is an excellent example here.
Medium porosity hair should be placed somewhere in the middle. It is neither healthy nor extremely damaged – the best way to describe it is normal hair which tends to be static, frizzy, brittle, split, etc. If you keep it healthy, it can look good, but will quickly deteriorate to high porosity hair if it's deprived of care.
If you know what your hair looks like and how it behaves, it should be easy to identify its porosity. If you're still unsure, Nanoil has a quick porosity test online which will give you an accurate result.
 3. Choose the right oil for your hair type
Just like skin, hair benefits from care. However, that's not to say anything goes – similarly to skin, your hair's condition and appearance can get worse the moment you treat it with the wrong product or ingredient. That's why it's so important to choose a hair oil that's right for your porosity type.
If you have low porosity hair, choose oils that are rich in saturated fatty acids. These include vegetable butters e.g. coconut, mango, shea, cupuacu. They have tiny molecules, making it easy for them to penetrate low porosity hair, which has a tightly-bound, external structure.
For medium porosity hair, oils with high-quantities of omega-7 and omega-9 monounsaturated fatty acids are the most suitable e.g. macadamia oil, marula oil, jojoba oil, sunflower oil.
High porosity hair fares best when treated with natural oils with large amounts of omega-3 and omega-6 polyunsaturated fatty acids e.g. evening primrose oil, argan oil, cottonseed oil or avocado oil, as they're made up of the biggest molecules.
 4. Find the perfect hair oil for you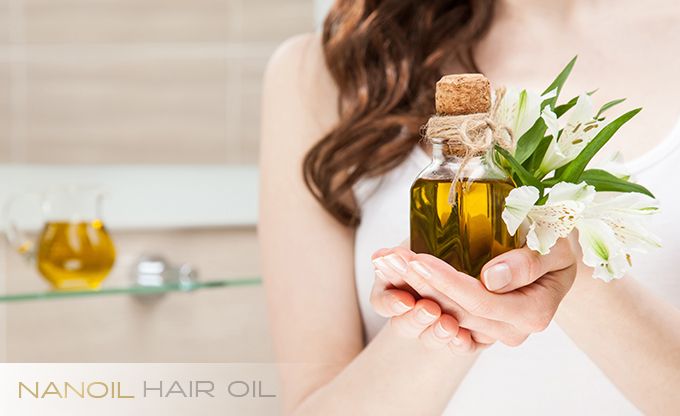 Nanoil is the perfect product for you.
When choosing a hair oil, most women opt for one, singular oil. Coconut oil is the most common choice, yet, sadly, it fails for many hair types – instead of smoothing, it triggers frizz.
Remember that one oil solves just one problem for one hair type. If you want to see the real power of hair oils, you need to choose a product containing more than one vegetable oil. Be careful – packaging stating 'hair oil' does not necessarily mean the product is suitable for you. Additionally, shop-bought products often include silicones, mineral oils and artificial additives which can actually damage hair.
---
Read more: https://experthometips.com/hair-oil-treatment-nanoil