Everyone's cleaning routine is slightly different. Some of us prefer to clean at the weekend, whilst others squeeze it in here and there when the baby stops crying. No matter how you prefer to tackle household chores, a Cleaning Schedule can help you. It'll tell you what to clean and how often to clean it – consider it as a sort of 'cleaning calendar.
We've made a printable Cleaning Schedule for you to put up on your wall. Complete with tickable boxes, it makes prioritising cleaning tasks, delegating chores and keeping on top of housework easier than ever!
Daily cleaning tasks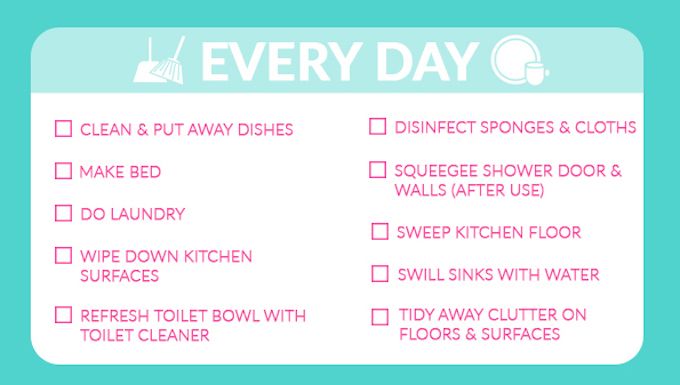 Daily cleaning tasks are all about maintenance – in fact, they're more about forming good habits than anything else.
There's no need to get any scrubbing brushes or bleach out, focus on keeping things tidy, reasonably clean and sanitised and your weekly and monthly cleaning tasks will be much easier.
Weekly cleaning tasks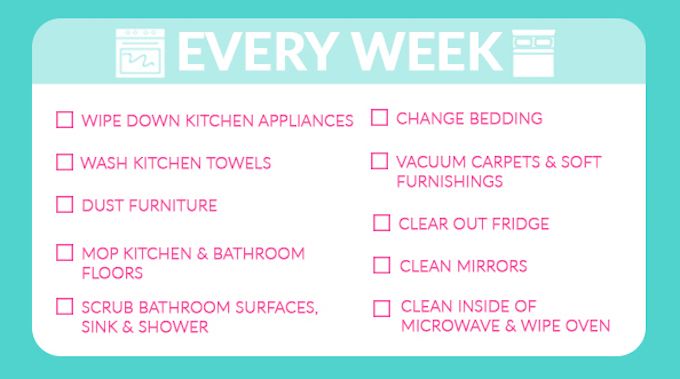 Whether you choose to do one big weekly clean, or spread it out over several sessions, the above tasks are those you should be focussing on.
Essentially, weekly cleaning tasks are removing the accumulated dirt from the past 7 days. This includes the bathroom, kitchen, bedrooms and reception rooms.
For your weekly clean, you'll need a basic household cleaning kit, brush and dustpan, mop and a vacuum.
Monthly cleaning tasks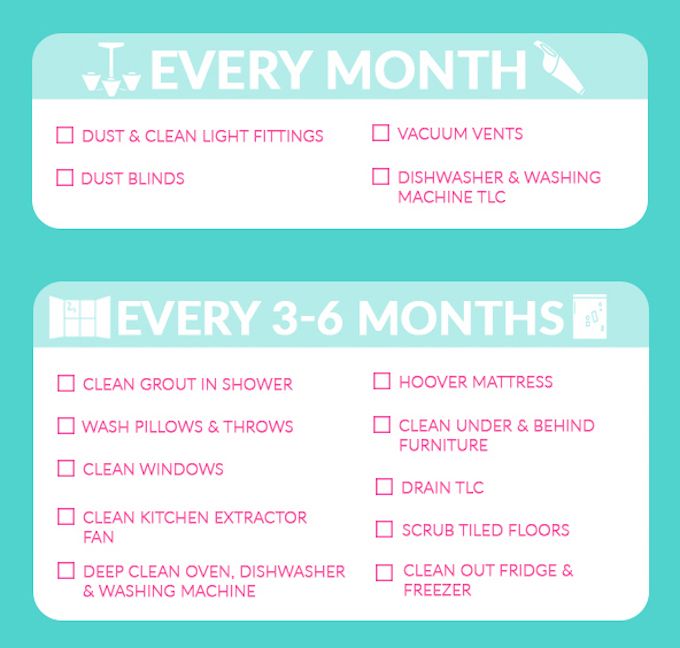 It's time to get down to business! As the weeks slowly turn into months, a quick clean's no longer going to cut it.
Each month, make sure you give some TLC to those areas you don't have time to cover in the week.  This includes fiddly area such as blinds and light fittings, and less-obvious tasks such as wiping down the washing machine and dishwasher inside and out.
Over the period of 3-6 months, you should slowly work your way through a list of more time-consuming tasks that require harsher cleaning products and more elbow grease. Whether you choose to do these yourself, or get professionals, such as oven and windows cleaners in, is up to you, however, they do need doing. If left too long, dirt will become much tougher to remove.
---
Read more: https://experthometips.com/house-cleaning-schedule-daily-weekly-monthly-yearly-tasks