We've all been there:  you leave the little ones to play for half an hour whilst you wind down, make a cuppa, maybe even read the paper – if it's quiet enough.  Just a quick, thirty minutes – no more, no less – but by the time you check on them, anyone would think you'd been gone for a month.
Books strewn across the floor, crayon on the carpet, fancy dress stuck on the lampshade…ouch, lego underfoot.  It's a nightmare.  Well, my friends, no longer -there are ways around this, and I'm here to show you how.
With a little help from some of my fave DIY gurus, I've rounded up 10 of the best and simplest storage ideas out there, to help ensure you never have to say 'IT LOOKS LIKE A BOMB'S HIT' again!
Create a tidy toy area
Kids have so many toys these days, they could rival most Disney Stores.  Whether their preference is for Beany Babies, Lego or both and everything in between, chances are they don't keep them all in one place.  Try as you might to make them put the little figurines back in their allocated spots, a task so trivial seems so, trivial, after 'playtime'.  The answer? make toy tidying fun!  Here's how:
'Over-the-door' Barbie Organiser
Um, this is so good, even I'm a little bit jealous.  We know how much little ones love Barbies, and the company's annoying ability to reinvent means your kid's collection is forever expanding.  Sigh.  Where to put them all ? An 'over-the door' Barbie Organiser, of course!
Lego-lined shelving
Lego is probably the most painful toy of them all – poor you if it's your child's favourite.  Not only are the pieces so small that it's almost impossible to pick them all back up, but if you've ever happened to tread on one, it's a wonder you didn't ban them completely.
The solution?  Glue lego 'baseplates' onto shelving, that way, you'll kids will actually be tidying whilst playing (you can find a range of colours and sizes on Amazon).  Make it even more fun by challenging them to make all kinds of scenes and set-ups on there – they'll love letting their imaginations run wild.
Knock-up some smart stationery storage
If your children are still allowed to use felt tips in their rooms, congratulations to you!  Very brave indeed.  Whilst we all want our little ones to practise their creativity, what we most certainly don't want are rainbow striped carpets.
Keep  your pens, pencils and whatever else tidy with some nifty stationary solutions:
Can pen holder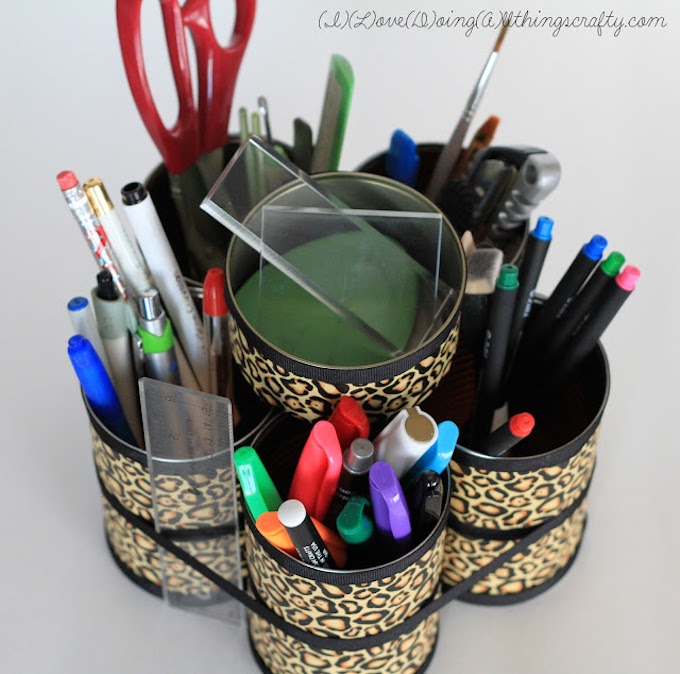 Baked beans are one of the best, easiest and arguably tastiest suppers in the world, and now you can get even more for your money!
I love doing all things crafty has come up with a way of completely transforming your empty Beans cans (other cans are available) into unrecognisable stationary storage – perfect to go on your mini me's desk.  Not only is this a great craft project to bond over, but they're customizable, so you can make them as crazy as you like!
Hanging plant pots
If table storage is something you're running short of, look to your walls for help.  Wall storage ideas can look brilliant – who needs Art – and be a perfect space shortage solution.
By using pots, jars and any other containers you already have, you can create some unique wall storage holders, fit for all your pen and pencil needs.  Just drill up a sturdy rail and hook them on over (IKEA kitchen wall storage is great for this).
---
Read more: https://experthometips.com/10-sensational-storage-ideas-for-tidy-kids-rooms