Looking for spice storage ideas? We have all the inspiration you need to get your coriander, cinnamon, cardamom and countless other spices organised in a way that's both practical and pleasing to the eye.
After all, what's a kitchen without a rather-ridiculous array of spices?
Spice jar alternatives
When it comes to storing your spices, the options are much more vast than what's you see on supermarket shelves. Check out the list below for some alternative spice storage ideas you may not have considered…
1. Test tube spice jars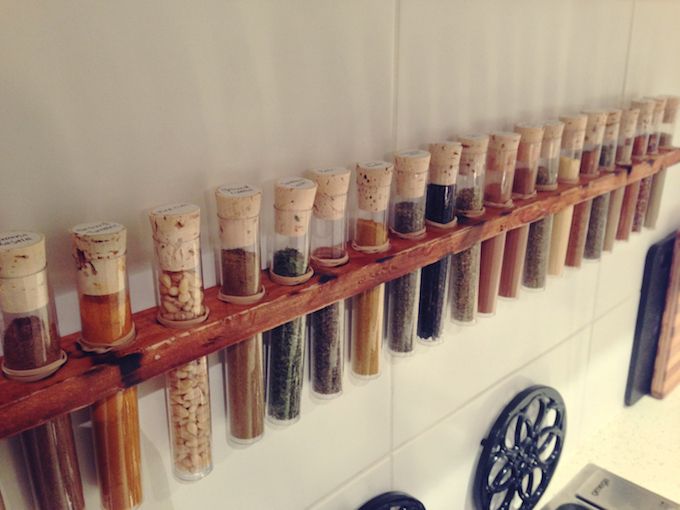 For those of you who are all about aesthetics, test tube spice jars will be an amazing addition to your bohemian kitchen.
This test tube spice rack set from Amazon is a great way to get started. It's a compact, air-tight and pretty solution to all your spice dilemmas!
2. Metal tins are super practical
Looking for a streamline spice storage solution? Stainless steel containers could be just the thing.
They're roomy, so you won't have to refill them every week, and extremely practical too – with their magnetic bottoms, you can stick them almost anywhere.
Add your own labels (scroll down to the bottom of the blog post for DIY spice label ideas) and you're all set.
3. Spice storage ideas using stackable jars
Really short on space? Consider investing in some stackable spice jars.
Unlike stackable jars, traditional spice jars are surprisingly difficult to store, which can be put almost anywhere. Invest in a set today and store them in your cupboards or even on kitchen worktops to maximise on surface and storage space.
4. Why not store spices in bags?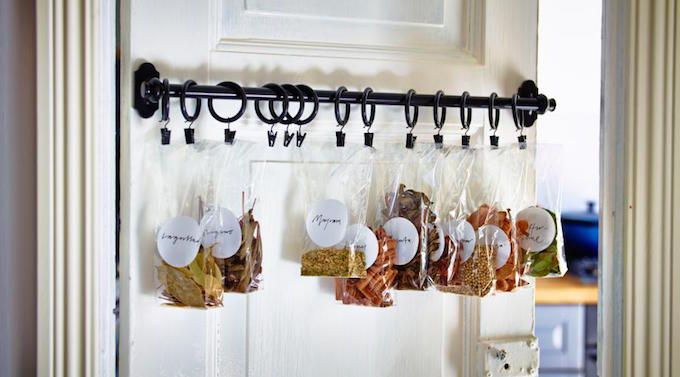 Storing spices in bags might not be traditional, but, do it right and it'll not only be practical but look good too.
Invest in some high-quality, re-sealable small bags, and you'll be able to store them in almost any drawer, or even hang them.
Bonus: unlike traditional spice jars, you'll easily be able to fit your measuring spoons inside, making cooking delicious food easier than ever!
5. Shop-bought jars
If you are going to buy spices in jars, our advice is to invest – get yourself a really nice set of jars which are well-labelled (preferable on the top and sides to make them easily identifiable).
Then, instead of re-buying them each time you're out, buy refill packs which are much cheaper and will save you lots of money over time.
6. Tic-tac boxes spice storage
This is definitely one of the weirder spice storage jar ideas, but it can be super handy – especially if you're short on space.
If you are or know a Tic-Tac fiend, start collecting the empty boxes. They'll serve as great little spice holders, which you can store neatly in even the tightest of spaces.
7. Baby-food jars
Whilst we're on the topic of upcycling, baby-food jars can also be wonderful for spice storage.
Give them a good clean, and they'll look just as aesthetic as IKEA's storage jars, without costing you a penny!
8. Regular jam jars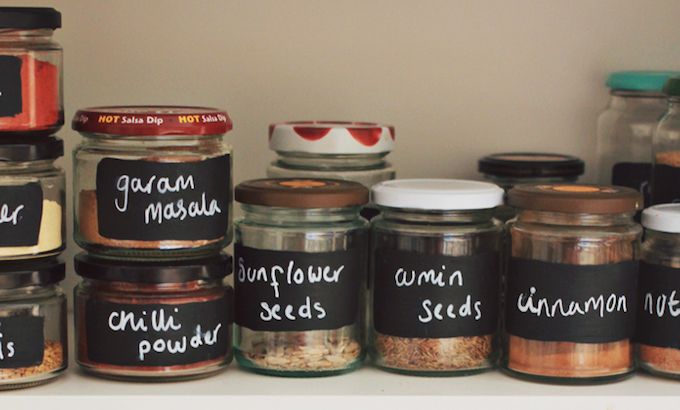 If you have the luxury of space, you can go crazy with you spice storage. Save up a selection of empty jars – everything from jams to olives will do – and pop your spices in them.
Put those you use often in larger jars, and the less frequently used flavourings in smaller jars. It will look great and give your kitchen a real homely feel.
---
Read more: https://experthometips.com/spice-storage-ideas-jars-labels